Description
Slavens Racing Stink Bug Killer

The Slavens Stink Bug Killer is a simple solution to balance your 2017-19 KTM 150/250/300 XCW/6 Days or 250/350/450/500 EXCF. The 2017-19 models are over an inch higher in the back than the XC/XCF/SX/SXF models. This stink bug stance (high in the back) makes them twitchy and unstable in all riding conditions, especially in trail whoops, sand and on relatively fast trail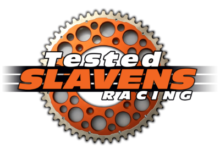 sections/two tracks and jeep roads.
The Slavens Stink Bug Killer was developed in conjunction with Greg at Factory Suspension Works to create a correctly balanced chassis. Balancing the chassis improves steering, improves rear wheel traction, reduces the seat height, improves overall stability and greatly improves rider confidence.
Corrects front to back balance
Gets rid of the stink bug stance
Improves rear wheel traction
Improves steering (more planted feel)
Improves overall stability
Reduces seat height (3/4″ – 19mm)
Improves rider confidence
Note: It does not come with instructions. We recommend it be installed by a suspension professional or watch our installation video (below).
DOES NOT WORK WITH SKF SEAL HEAD
Fits:
'17-19 KTM 150/250/300 XCW/EXC/6D
'17-19 KTM 250/350/450/500 EXCF/6D
Availability: In stock

Ships: Worldwide