Description
System Tech Racing High-Speed Compression Adjustment Tool

The CNC milled 17mm 12 point wrench slips over the High Speed Compression hex nut and is held in place with a 3mm pinch bolt. No more need to pack a heavy 17mm wrench in your tool kit.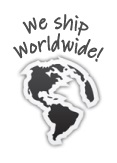 You're now able to just stop, reach down and make a change stiffer or softer and immediately ride and test your change. You are feeling the active ride height and balance. Just like the spring, the dampening helps hold up the bike up as well. And remember, the rear shock settings affect the front fork as well. More shock compression valving, high and low speed, will transmit more weight to the front wheel and fork. Think of this as increased traction transmitted to the front end, creating improved handling & confidence. This is the balance of the chassis.

Fits: 
ALL KTM, Husaberg, '14-23 Husqvarna/`21-23 GasGas models with 17mm High Speed Compression adjuster.
NOTE: It only fits shocks with a 17mm adjuster, NOT shocks with 14mm adjuster. Please confirm that your adjuster is 17mm BEFORE ordering.
Availability: In stock
Ships: Worldwide