Description
Klim Viper Pro Goggle Replacement Lenses
Replacement lenses for Viper and Viper Pro Offroad and Snow Goggles by Klim.
GEMIN-EYE ANTI-FOG: KLIM is the first to offer GeminEYE anti-fog. Rather than a simple hand application on one side of the lens, we dip the entire inner lens in the GeminEYE formula as a dual shield against fog up to 3X longer than competitor lenses. The dual-pane lens is thermally bonded for 24 hours then heated again during production to evaporate any moisture that may have built up during the manufacturing process for a vivid lens throughout the VIPER GOGGLE's entire field of vision.
POLYCARB PREMIUM UV400 LENS: LENSKLIM developed the PolyCarb Premium dual-pane lens with an extremely advanced Polycarbonate (PC) outer lens for a more durable and scratch resistant experience. In order to deliver the highest quality, the VIPER GOGGLE goes beyond the industry standard by undergoing 4 unique durability tests and impregnated UV400 protection. The combined technologies with the PolyCarb Premium Lens make the VIPER GOGGLE inherently more durable, scratch resistant and vivid than the competition.
Availability: In stock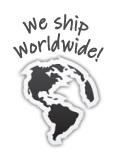 Ships: Worldwide