Description
No-Toil Pre-Oiled Air Filter for KTM, Husqvarna, GasGas

No-Toil Pre-Oiled Air Filter for KTM, Husqvarna, GasGas is ready for fast and easy installation so you are able to get back on the trail in no time! The foam and oil used in these filters are both biodegradable, so dispose of that filter.  Meets O.E.M. specifications for an exact fit to your air box and offers great performance and is dependable. So if you want to improve your machine airflow and increase the horsepower with in minutes, look no further and add to cart!
Dual stage foam: Two different pore sizes create more trapping area for even the smallest dust particles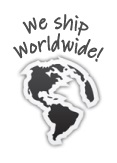 Flame laminated foam: Both "stages" are not glued but rather heat sealed to provide maximum air flow
Reticulated foam: Increase dirt-stopping surface area and increase foam strength
Strong glue seams will withstand harsh solvents and gas
Light color foam is easier to spot where the filter oil has coverage
Handmade and inspected for quality
One-year manufacturer's warranty
Made in the U.S.A.
Fits:
See fitment tab above
Availability: In stock
Ships: Worldwide