Description
Odi EMIG V2 Lock-On Grips
Change your grip in seconds without the need for wire or glue with the EMIG V2 Lock-On Grip. Simply replace the grip as you would the entire throttle tube. On the clutch side, the grip is molded to a plastic tube that features a lock jaw clamp to secure the grip to the bars. Simply slide into position, tighten the pre-installed clamp, and you're ready to ride! No waiting for glue to dry, no sticky mess, and you're left with a fresh, smooth throttle operation. They're the grips that will help you handle your dirt bike like the pros and  possible to change grips between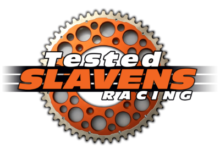 motos… even if you just want to try a new color.
When multi-time AMA MX champion Jeff Emig wanted to revive his family brand EMIG Racing, he went to ODI to develop a new MX hand grip. After being introduced to the new V2 Lock-On Grip system, Jeff immediately saw the benefits of the new technology. In addition to the ease of installing the lock-on grips, Jeff found that there were larger benefits as well, such as a new smooth dirt bike throttle tube with every new pair. He put his own custom design to the V2 system lock-on grips to develop "the best grip for racers on the planet."
Uniquely designed half waffle pattern, half low-profile pyramid pattern
Provides the ultimate in comfort even thumb relief
No safety wire required means longer grip life, even in the even of a crash
Grip ends knock out to easily accommodate hand-guards
A locking collar secures the clutch side grip to the handlebars
Delivers 100% slip-free guarantee combines fashion and functionality to your ride
Designed with a medium diameter–perfect combo for cushion and control
Throttle tube included with snap on cam to match more models
Made in the U.S.A.
Note: Each grip kit includes throttle cams for KTM, Husky, Husaberg, GasGas, Beta and Japanese brands

Availability: In stock
Ships: Worldwide