Description
Trail Tech Universal Temperature Sensor

The Trail Tech Universal Temperature Sensor senses temperature on motorcycles, UTVs, ATVs, Snow Machines, and other applications where a minimal footprint, watertight integrity, and durability are desired. The included radiator fin and cylinder head sensor assortment allows for the best option based on your application. After removing the chosen sensor from the included array, it can be installed by pressing a radiator fin sensor between the fins of a radiator or replacing a spark plug crush washer with a cylinder head sensor. You can even capture ambient air temperature by leaving the sensor wire exposed to the open air. Primarily designed for motor vehicles use, it is also well suited for DIY applications such as greenhouses, refrigerators, and computers. If you need temperature monitoring, then you need the Trail Tech Universal Temperature Sensor!
DISPLAY:  Displays ºF/ºC temperature for whatever the copper sensor is attached to. Monitor the max temperature reached and press the front button to see the time-of-day clock.
INCLUDED SENSOR CARD: Choice of 6 sensor heads included in the kit. Remove chosen head from the card, then fasten it to the sensor wire with a screw. It is possible to work with homemade DIY copper heads for various uses. For best performance, use the provided copper sensors.
SENSOR CHOICES: Vehicle coolant sensor heads press into radiator fins (7, 8, and 10mm), or choose an engine ring sensor that replaces a head bolt or spark plug crush washer (10, 12, and 14mm).
BEST USE: Great for monitoring the temperature of UTVs, street, adventure, and off-road motorcycles. Works great on other vehicles like farm equipment. Use this meter wherever you need to monitor the temperature on your application.
INSTALL: Comes with VHB tape for a quick head unit install or mechanically fastens with M4 (#6) bolts (not included).
BATTERY: The internal battery is NOT replaceable! Ultra-low power design of the product ensures a lifetime of 5+ years. Complete epoxy encapsulation provides the best weather and anti-vibration resistance for the harshest applications.
Availability: In stock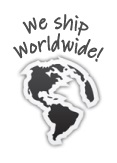 Ships: Worldwide