Description
Trail Tech Universal Indicator Light Dashboard
Hitting the streets? The Indicator Dashboard gives you what you need to get your dash street legal, from high beam, turn signals, oil, and beyond. With eight different indicators included, customize your dashboard any way. This part has been specially designed to work with any Trail Tech Gauge and compatible with most other gauges as well, in almost any orientation that works with your vehicle and dashboard!
Includes ten indicator lights for customization: low beam, high beam, turn arrow left, turn arrow right, turn arrow left and right (hazard), oil, neutral, reverse and blank. Shop Slavens Racing for all your electrical and gauge needs!
Note:
As a "Universal Fit" product, there will be some work to wire in the indicators.
Splice the indicators into your existing harness. Components behind a switch (like the headlight) can be wired directly to power and ground, while other situations may take a little more creativity. Bikes with a pre-existing indicator harness make the simplest installs.
Example: to activate the high beam indicator, wire its leads to the headlight's high beam power wire and ground. Then, when the headlight gets turned on, the indicator will use some of the power to also turn on.
Fits: All Trail Tech gauges (with or without protector covers) and more!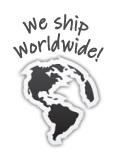 Availability: In stock
Ships: Worldwide