Description
Giant Loop Tow Strap

The Giant Loop Tow Strap is a multi-functional tool that helps get you or your riding friends out of sticky situations. This Cordura® Ballistic tow strap, designed with sewn loops on each end, can be girth hitched around a tree, bumper, rock, etc.; or used with footpeg-to-footpeg or other motorcycle (and snowmobile, ATV, snow bike) towing techniques. Constructed from ultra-durable custom woven Cordura® Ballistic webbing, which folds up into a compact integrated cover made with 22 oz. vinyl-coated polyester, or a "truckers tarp."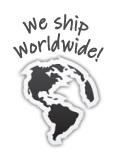 Used for motorcycle, snowmobile, ATV, and snow bike towing.
Doubles as a quick deploying, super-strong ridge line for pitching a shelter tarp.
Constructed from ultra-durable Cordura® Ballistic webbing.
Strap measures 14'-9″ (5.5 m) long with a 6″ (15 cm) loop sewn into each end.
Integrated 22oz vinyl coated polyester cover.
Limited Lifetime Warranty.
The Tow Strap works with virtually ever motorcycle, snowmobile, snow bike, ATV, UTV, and Side-by-Sides.
Note: Cover color may vary.
Availability: In stock
Ships: Worldwide