Description
KTM LC4 WP Shock Springs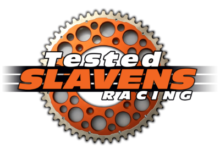 Straight Rate – 59mm I.D. x 260mm length
Our straight rate springs for KTM LC4 models are cold wound on computer controlled (CNC) equipment to achieve perfect fitment and precise spring rates. They are then heat tempered, shot-peened, end-ground and pre-set for ultimate durability. Manufactured with high quality chrome silicone wire.
CNC cold wound
Perfect fit
Precise rates
Heat tempered
Shot-peened
End-ground
Ultimate durability
High quality chrome silicone wire
Available in white
Made in the USA
Lifetime warranty
Fits: LC4 400, 620, 625, 640 ('98-'06)
Availability: Built to order – 2-4 weeks
Ships: Worldwide
Jeff Slavens Racing, Inc. shall not be liable for any loss, damage, injury, or death arising from the use of this product. User assumes ALL responsibility and risk. Motorcycle Riding/Racing is an inherently DANGEROUS activity. All spring rates and part numbers are suggestions only.