Description
Green Chile Adventure Gear Mondo Straps Kit
Soft luggage is more durable off-road than hard luggage. The Green Chile Adventure Gear Mondo Straps are named after the classic motorcycle movie, "Mondo Enduro".  The movie characters set out on their world trip with had hard luggage on their bikes. By the end of the movie the riders that were still pushing forward were all using homemade dry bags with basic strap kits.
The Mondo Straps Kit has been designed to work with or without GCAG soft racks. These straps allow you to use any bag you want for luggage. When installed properly you will be able to thrash about offroad and your luggage will stay put!
To use the Mondo Straps make a girth hitch around any mount point on your bike. Next, thread the flat runner back through the heavy duty metal cam buckle and pull it tight. The Mondo straps are easy on and easy off. The integrated tensioner system will keep your luggage in place no matter what terrain your adventure takes you on.
Included in the Mondo Straps Kit: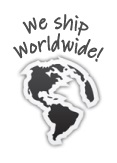 2 Heavy Duty Cam Buckle Tension Loops
2 Four Foot Runner Loops
Additional Information:
Dry bags NOT included
One Mondo Straps Kit will allow you to carry one bag.
Availability: In stock
Ships: Worldwide