Description
Bridgestone M59 Front Tire
This item ships ONLY to addresses within the 48 contiguous United States.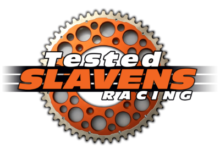 Bridgestone introduces the first dual compound motocross tread to keep you ahead of the pack: the MX-CAP/BASE. Specially designed for front tires, the tire features a dual-layer construction. The raised stknobs on the Bridgestone M59 front tire has to be stiff enough to maintain good traction. At the same time, the tire also needs flexible cushioning or shock absorption properties for straight-line stability and grip.
Now, with the MX-CAP/BASE, Bridgestone has developed a tire combining two different types of compounds to meet these conflicting requirements. One compound ensures the tread-block rigidity needed for high traction. The other delivers high levels of cushioning and grip for straight-line stability pro riders seek.
Outstanding performance on soft to intermediate motocross course conditions
Specifically designed for varying terrain applications
Larger casing increases contact patch for superior braking and cornering bite
Larger casting allows for more bump absorption
Newly developed MX-CAP/BASE combines superior shock absorption with ultra-high traction
"The Bridgstone M59 is one of the best all-around off-road tires built in the last 10 years. When doing comparison testing the M59 is the gold standard by which we judge other tires. It's been on top of the heap for many years and will likely be there for many years to come. The M59 does a great job in all types of varying off-road conditions from mud to hard pack". Jeff Slavens
Size: 80/100-21
Availability: In stock
Ships: USA only