Description
Sicass LED Flat Mount Turn Signals for KTM EXC/HQV FE
Flat mount LED turn signals with the factory KTM connectors for a direct plug unit. Mounts to any flat surface using a through screw. Shop Slavens Racing for all your lighting needs!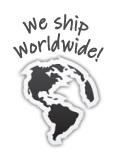 Fits:
`07-22 KTM EXC (SEE NOTE BELOW)
`14-16, `20-22 Husqvarna FE-S Models (SEE NOTE BELOW)
`17-19 Husqvarna FE Models (SEE NOTE BELOW)
NOTE:
If installing on a 07-19 KTM EXC, a 2014-16 or 2020 Husqvarna FE-S, or a 2017-19 Husqvarna FE you may also need parts Turn Signal Indicator Wire Kit and Smart Flasher. (SEE BELOW)
If you plan to use LED turn signals on the front AND rear, then you will need to install the Turn Signal Indicator Wire Kit AND the Smart Flasher.
If running one set of LED and one set of standard bulb turn signals you do not have to install the smart flasher, in this case the turn signals will blink slightly faster. If you wish to correct the flash rate install the Smart Flasher.
Availability: In stock
Ships: Worldwide