Description
Fork Springs WP48mm 44x470mm for WP XPlor, WP XACT CC, and WP 4CS

KTM Suspension Springs – 44mm O.D. x 470mm length
KTM WP 4CS, WP XPlor, and WP XACT fork springs made in Europe and the USA for Slavens Racing. These are very high quality with KTM suspension spring rates not available from WP or other manufacturers. Rated in Newtons per millimeter (N/mm) and Kg/mm. These KTM WP fork springs are designed specifically for the WP 4 Chamber System (4CS), WP XPlor, and WP XACT Closed Cartridge forks. Lifetime guarantee.
Designed for WP 4CS forks, WP XPlor forks, and WP XACT Closed Cartridge forks
Sized in Newton meters per millimeter and Kg/mm
Perfect fitment
Large range of sizes available for the KTM WP fork springs
Lifetime guarantee
NOTE: 2024 models require you to drain the fork fluid in order to swap the fork springs. You will also need to purchase 2 liters of 4W fork fluid.
NOTE 2: Sizes .56kg/mm & .58Kg/mm will require minor grinding on the inside of the end coils (with a Dremel) to fit over the plastic end guides on 4CS forks ONLY.

Fits:

See spring rate chart
Availability: In stock
Ships: Worldwide
Click chart to view full size.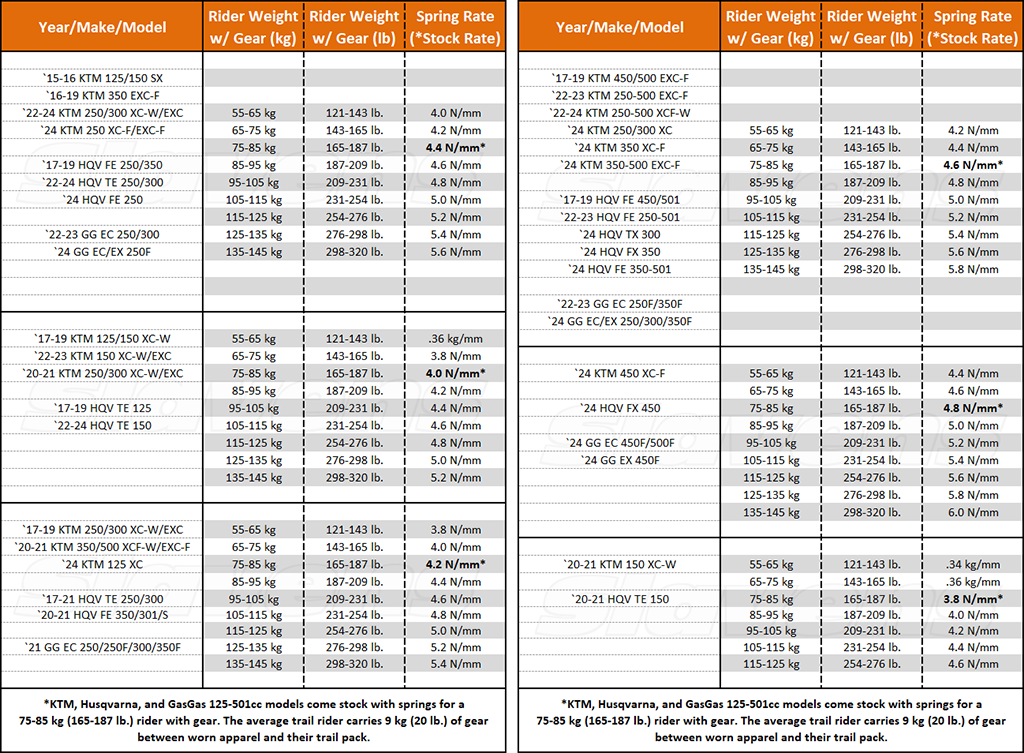 Jeff Slavens Racing, Inc. shall not be liable for any loss, damage, injury, or death arising from the use of this product. User assumes ALL responsibility and risk. Motorcycle Riding/Racing is an inherently DANGEROUS activity. All spring rates and part numbers are suggestions only.